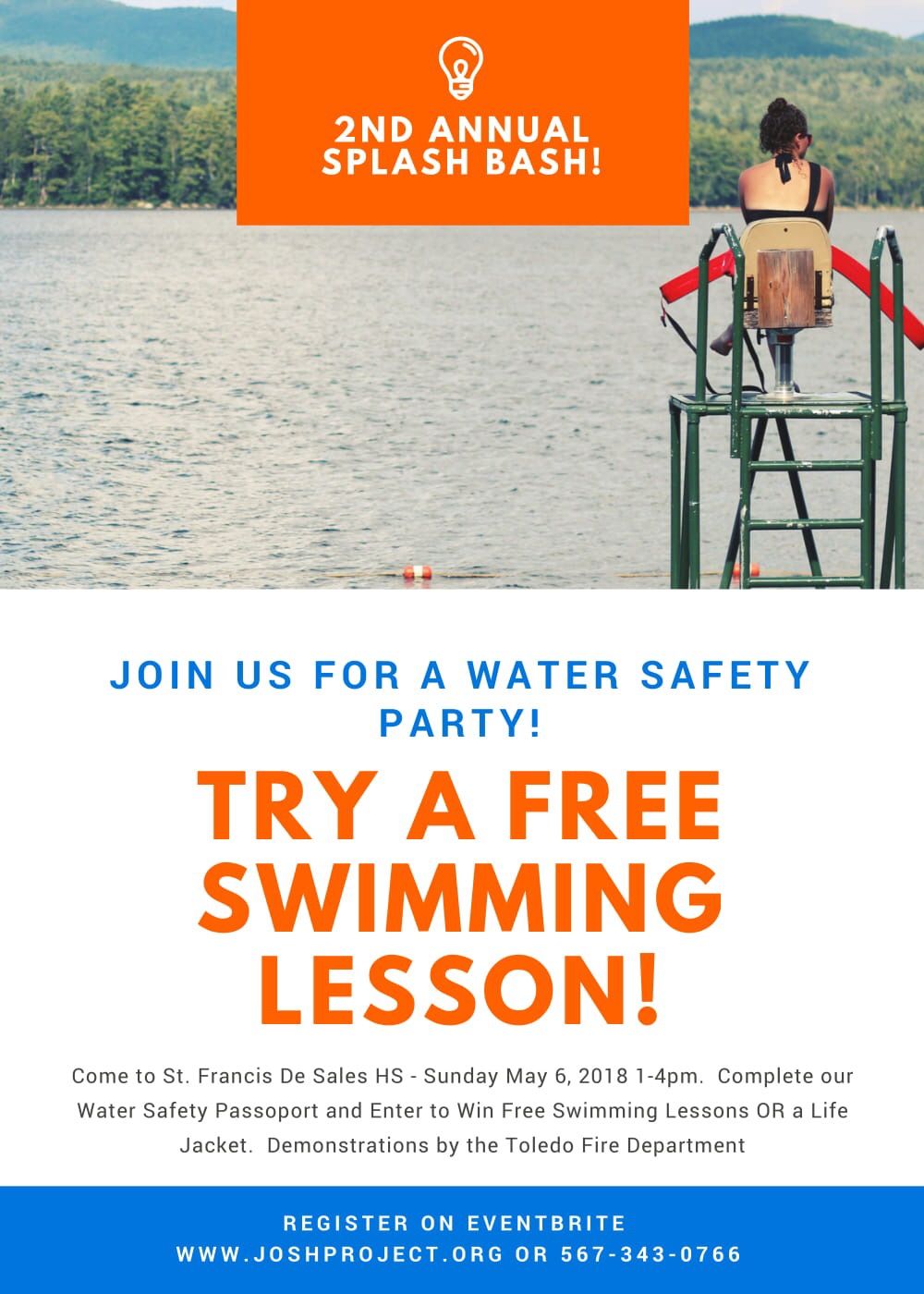 For Immediate Release May 3, 2018
Tankeeya D. Butts
419-574-2799
Tankeeya@joshproject.org www.joshproject.org
The Josh Project, Inc. Hosts Splash Bash as part of National Water Safety Month an Initiative to Prevent Childhood Drowning, a leading Cause of Childhood Injury & Death
Toledo, OH- To encourage all Toledoans to protect the children they love from unintentional water related injury and death, The Josh Project, Inc. will host a Water Safety Splash Bash. This free community event will include swimming lessons, CPR demonstrations and water safety demonstrations will be held on Sunday May 6, 2018 at St. Francis de Sales High School Natatorium from 1 until 4 p.m. Toledo Mayor Wade Kapszukiewicz will present Josh Project Founder, Wanda Butts with a proclamation declaring May Water Safety Month in Toledo.
According to Josh Project founder, Wanda Jean Butts, this event is an opportunity to inform parents and caregivers about the dangers of drowning and how they can avoid losing someone they love to drowning like she did. Butts only son, Josh, drowned at Bird Lake in Hillsdale, MI in 2006.
An estimated 5,000 children ages 14 and under go to the hospital because of near drowning-related incidents each year; 15% die and about 20% suffer from permanent neurological disability. According to The Consumer Protection Safety Council's Pool Safely Campaign, at least 163 children fatally drowned from Memorial Day through Labor Day in 2017. Ohio had the sixth highest number of pool and spa drownings involving children younger than 15.
National Water Safety Month is an annual awareness campaign coordinated by The Association of Pool & Spa Professionals with support from the National Recreation & Parks Association, the American Red Cross and the World Waterpark Association. In addition to hosting its Splash Bash, The Josh Project will promote International Water Safety Day on May 15 and National Safe Boating Week May 19-25, 2018.
Event activities will include registration for swim lessons, safe swimming demonstrations for shallow and deep water, safe boating tips, and information about proper fencing around pools. Educational materials will be provided for adults and children and everyone who completes a Water Safety Passport will be entered to win a Free Life Jacket or Free Swimming Lessons with The Josh Project. .
The Josh Project is 501©3 charitable organization that was founded after Ms. Butts lost her 16 year –old son, Josh, to drowning at a lake in 2006. Our mission is to "Build basic swimming skills and knowledge of water safety to prevent drowning.
For more information, go to, www.joshproject.org, www.nationalwatersafetymonth.com
###