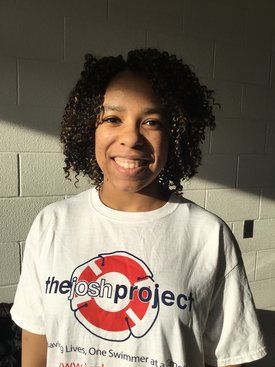 Our organization is fortunate to have dedicated volunteers that help may our program a huge success. For the month of May we'd like to highlight Ms. Tatiana Monger who is one of our swim instructors.
Name: Tatiana Monger 
Grade: 12th
Plans After High School:
Study Biology and Spanish in college, then medical school
Hobbies: Swimming, writing, acting and babysitting
How Long have you volunteered with The Josh Project?:
Since summer '17
What do you like about volunteering with The Josh Project?
My favorite part of volunteering with The Josh Project is the family involvement. I love watching kids run up to their parents after a session to tell them how much they learned, or to see parents record their child jump off the diving board at the end of the six weeks. I think its very important to the child learning and continuing to learn if their family is involved.
When your friends/family find out that you volunteer with The Josh Project, what do they ask?
When most people find out what I do when volunteering, they ask is it hard. To them, making sure the kids are safe, learning in an engaging way, and having fun seems like an impossible task. To me, it's what makes The Josh Project my most memorable volunteer experience. I always respond with yes it's a lot of work, but it's worth it.
What do you find most challenging about teaching kids how to swim?
Some days there will be three or four kids in a lane and one of them will be able to do basic stroke by themselves, but another won't even put their face in the water. So I have to find different ways of teaching each child so they learn effectively and at their own pace.
We greatly appreciate Tatiana's service over the past year. We wish her well and we know she will be an excellent doctor!